Stand with Ukraine. Save peace in the world!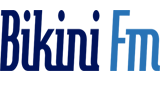 Bikini FM
Bikini FM es radio de la música remember y dance de los 90 y 2000 en el 105.5 FM de Alicante. Si eres un amante del dance, también puedes escuchar La Mega Alicante.
Show more
Bikini FM reviews
Ретро ФМ

🤣

Gregorio Lagos

21.03.2022

¡Ah! ¡Qué buena y refrescante emisora! Para escuchar a gusto por las madrugadas. Saludos a todos en el mundo, un venezolano desde Lima, Perú.

Fernando Pons Ferrer

10.04.2021

es lo mejor, visca elbaexoooooooojajajajajajaj

Mikael Anghelos

16.01.2021

la caña de emisora

samuel zaragoza

14.10.2020

Buenas me gustaría saber cual es la canción que ha sonado a las 17:35 o 34 antes del gallinero loco

Faustino Jimenez Caro

16.07.2020

Lo mejorcito de la radio, sois fenomenales, saludos desde Javea

Jose Luis Galis

21.06.2020

Muy buena la radio..saludos desde Argentina Caleta Olivia Santa Cruz.-

Jose Luis Ruiz

18.04.2020

una pasada la mejor que hay

Tomasz Lisiecki

15.02.2020

la mejor emisora para mí con la música que me gusta , dla mnie najlepsze rozgłośnia z muzyką którą lubię
Information about the radio
Els éxits que ballàvem de música remember dels anys 90! Bikini FM es la radio del remember. 24 horas al día con los temas más populares de la Ruta del Bakalao y el dance de los 90. Ninguna emisora te devuelve al pasado como nosotros. Con las canciones que marcaron una época: Flying Free de Pont Aeri, Chimo Bayo, Fly On The Wings Of Love… Si no las recuerdas, nosotros te las ponemos de nuevo.

En Bikini FM puedes rememorar los tiempos de Bikini Club con el carismático Bartual, que es la voz de la emisora y ofrece un programa diario con dedicatorias y el repaso a la música remember que marcó una época del dance en la Comunitat Valenciana y el resto del mundo.
Radio contacts