Stand with Ukraine. Save peace in the world!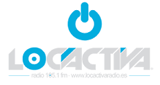 Loca Activa
Las Pedroñeras, 105.1 MHz FM
LocActiva Radio es un proyecto de radio joven echo íntegramente para el entrenamiento de todo aquel que se preste a escuchar a contagiarse de energía positiva.
Show more
Loca Activa reviews
Amparo Muñoz Corpa

19.06.2021

Fantástico, x fin un medio sin engaños

Javier Molina Velasco

15.04.2021

Hola Navarrete ,

pedro Perez Heras

05.10.2020

La mejor emisora de Castilla la Mancha por decir verdades como puños

Francisco Martinez

13.04.2020

hola navarrete los propongo un tema muy interesante aver si puedes hacer un programa de misterio para aver k esta pasando por las noches la gente esta acojona aver si entre todos sacamos algo de todo esto k la gente se piensan k son ognis o algo del mas alla y lo del ruido metalico tendra su logica pero dicen los k saben de esto k pueden ser cielo motos ruido del mas alla acojona eso aieske venga di algo sobre eso aver si la gente se interesa y llama a la emisora k es un tema super interesante no crees un saludo

Patrick Caudoux

06.03.2020

Que bien me gusta es una radio joven!

Miguel Gomez Zori

29.06.2019

Muy buena,😘😘😂

angel diaz calero

20.09.2018

vengaaaaa

Miguel Angel Martínez Marti

13.04.2018

Eres u makina Navarro
Information about the radio
Un proyecto de radio musical y de entretenimiento, desarrollado de forma exclusiva para el público de castilla la mancha. Bajo la dirección de J.M. Navarro, locutor, publicista, dj y comunicador de prestigio en la comunidad y con la unión de importantes profesionales de la radio dance nacional. Productores, djs, locutores y colaboradores capaces de ejecutar una programación de gran calidad dinámica, fresca, ágil, divertida, entretenida y muy cuidada en cada una de las franjas horarias. Actualmente Locactiva Radio es un referente de la radio joven e independiente en castilla la mancha, con una programación basada en la calidad a la hora de producir cada uno de sus programas, jingles, imagen, cuñas publicitarias, locuciones etc..
Estamos convencidos de que ningún medio local, regional o nacional puede ofrecerte una programación igual, ni tampoco parecida.
Radio contacts