Stand with Ukraine. Save peace in the world!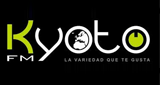 Kyoto FM
Caldas de Reis, 103.7 MHz FM
Emisora musical 24 horas. Con una programación basada en la música que es éxito actualmente y que lo ha sido en décadas anteriores de todos los estilos: Pop, Latino, Dance, R and B... Además somos la radio más interactiva donde tú puedes pedir y dedicar las canciones que más te gustan atra ves de nuestras vías de comunicación. Cada día conéctate a la radio que te conecta con tu ritmo... En Kyoto FM esta "la variedad que gusta" Una variedad diferente en Galicia desde donde emitimos atra ves de la FM para varias comarcas y para todo el mundo en nuestra página web.