Stand with Ukraine. Save peace in the world!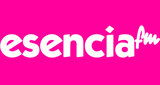 Esencia FM
Esencia FM es la emisora con toda la música en español. Los clásicos esenciales de todos los artistas del pop latino. Una emisora para que redescubras nuestra música y donde podrás cantarlas todas, porque Esencia es una emisora en la que entiendes. Las sensaciones, las emociones y las letras de tu vida.
Esencia FM reviews
super

Ich liebe euren Musik Sender , aber leider springen die Musik Titel immer ist das weil ich in Deutschland Bin im Moment?

La mejor combinación de éxitos en español.