Stand with Ukraine. Save peace in the world!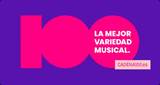 Cadena 100 Barcelona
Cadena 100 La Mejor Variedad Musical con 45 Minutos de Música Sin Interrupción Cada Hora. Buenos Días Javi y Mar, Happy Hour, La Noche de Cadena 100, Por Ellas, Premios Pie Derecho, Por un mundo Mejor, De Cerca, Club 100.
Cadena 100 Barcelona reviews
i like your country and music !

Super 😀

BUEN DIA UN SALUDO DESDE LA HEROICA MATAMOROS TAMAULIPAS DE LA REPUBLICA DE MEXICO , PARA TODOS

Muy repetitiva.

LO MAXIMO

Mala

Paulo Silva da cuinha

09.02.2022

Una escoria. Apagadla hputas

Mr Brownie selected

02.01.2022

Pésima y sosa

muj belisimo

Buena variedad.