Stand with Ukraine. Save peace in the world!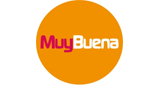 Muy Buena Gandia (La Safor)
De ámbito nacional y con una radio-fórmula actual, fresca y alegre, MuyBuena es la emisora musical preferida por los oyentes de entre 15 y 40 años. La llegada del pop anglosajón y latino a nuestro país, relegó a un segundo plano al pop español. Fue entonces cuando los artistas empezaron a modificar su estilo para adaptarse al sonido de moda y cuando nacieron nuevas emisoras como Muy Buena, dando así vida al Pop-latino actual, con canciones llenas de energía positiva de grupos y artistas de renombre como Luis Fonsi, Shakira o Ricky Martin.
Muy Buena Gandia (La Safor) reviews
poner pepas de farruko porfavor

Maria Jose Pastor

04.09.2018

Me gusta trabajar con vuestra musica de fondo. Me anima!!!

poner perro fiel

Kristina Murauskaitė

27.02.2018

1

Podeis poner havana de camila cabello? A las 20:30h (horario español)

Maria Jose Estruch Polvoreda

15.11.2017

podeis poner BECKY G-mayores a las 07:45