Stand with Ukraine. Save peace in the world!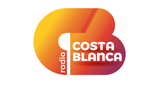 Costa Blanca Radio
Costa Blanca Radio is in vrijwel de hele Costa Blanca te ontvangen. Alleen de bergen kunnen de ontvangst soms wat hinderen. Costa Blanca Radio is een van oorsprong Nederlandstalige zender. Het station heeft echter als doel om alle inwoners van de Costa Blanca een prettig muziekprogramma te bieden
Show more
Costa Blanca Radio reviews
Information about the radio
Costa Blanca Radio is te ontvangen van Alicante tot Gandía. Voor de echt in Spanje gesettelden: van de Marina Baja (Benidorm) tot de Marina Alta (Dénia). We zijn in de Marina Alta te ontvangen op 97.6 FM. In de Marina Baja kan dat via 101.5 FM.
Initiatiefnemers van Costa Blanca Radio zijn Erik de Zwart en Rick van Velthuysen, grote namen in de Nederlandse muziekbusiness. Dat er veel lekker in het gehoor liggende platen worden gedraaid die af en toe totaal in de vergetelheid zijn geraakt, doet veel mensen goed en laat hen regelmatig terugdenken aan "vroeger".
Diegenen die eenmaal terug in het vaderland geen afscheid kunnen nemen van onze muziek, kunnen via de live-player op deze website of via TuneIn afgestemd blijven op Costa Blanca Radio.
Radio contacts