Stand with Ukraine. Save peace in the world!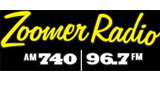 Zoomer Radio
ZoomerRadio AM740 - CFZM is a broadcast radio station in Toronto, Ontario, Canada, providing Pop Standards, Oldies Pop and Rock, Big Band Jazz and Old Time Radio. ZoomerRadio format reminds listeners of the good ole days with sentimental favourites and pop classics from the 30s/40s/50s and 60s, and the greatest dramas and comedies from The Golden Age of Radio.
Show more
Zoomer Radio reviews
No more Richard Syrett?Why???The station SUCKS!!!

Never a disappointment, Always entertaining wheather in the car at night or on line anytime - Even here in Micco Fl 32976!! Great station guys!

Fantastic Radio Station it give us everything News music Zoomer Radio ...

William Perkins

20.08.2020

Would give it a 5 if not for the overwhelming commercials

Patrick Warner

23.07.2020

I am listening to this station at midnight each weekday night in Chicago . The reception is not a hundred percent but the hits keep rolling and the memories are terrific. Wonderful after hours program.

I have recently found this station, I listen on the internet. A great mixture of music and talk, how refreshing!
Information about the radio
CFZM is a Canadian Class A clear-channel radio station, licensed in Toronto, Ontario, which airs at 740 kHz and in downtown Toronto at 96.7 FM. The station airs a pop standards format branded as Zoomer Radio, with the slogan "Timeless Hits". Its studios are located in the Liberty Village neighbourhood, while its transmitter is located in Hornby.
Radio contacts