Stand with Ukraine. Save peace in the world!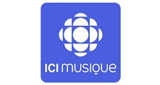 Ici Musique
Ici Musique - CBFX-FM is a broadcast radio station from Montreal, Quebec, Canada, providing Classical, Jazz, Pop music to the Greater Montreal Area.
Show more
Ici Musique reviews
EILEEN C HOLTZ

01.02.2023

I'm a listener from Newark Delaware, USA. I've been tuning you in for several months. Sometimes your station is on all day as I am working.

Claudine Lessard

29.09.2022

L'émission de Nicolas Ouellet décevante, je m'ennuie de Clément Courteau en après midi .

Alejandra Salas

20.05.2022

Bonjour, Je suis Diana et je vous écoute de la Colombia pour apprendre le francais, la musique est bonne aussi. Bientot.

Claire Jacques-plant

19.03.2022

On se dépêche pour revenir à la maison pour vous écouter tous les samedis après notre ski de fond. On aime énormément votre programme, est-ce possible de le ré-écouter plus tard? Nous demeurons à Kamloops, en Colombie-Britannique.

A great variety of truly pleasant, enjoyable music...Always a pleasure, especially Saturday early evening. It was by mistake I turned on this station and I AM SO GLAD I DID! Thank you for such a listening pleasure!

Mikaël Joannides

21.01.2022

La personne qui donne les nouvelles le matin à 7h30 et 8h30 semble incompétente.

Mme Forestier, vous me faites tripper dans mon âme de 1968...Merci pour qui vous êtes, pour ce que vous êtes pour le Québec, vous occupez une place particulière dans ce Québec qui malheureusement n'a pas su décoder vos messages dans ces belles années...Louise itoux

Je cherche la liste de diffusion de ce matin, mais à quel endroit puis-je trouver? voilà la question! :)

Jean-Pierre Laporte

10.12.2021

C'EST DONT BEN COMPLIQUÉ DE TROUVER UN TITRE DE PIÈCE DIFFUSÉE!!!!

ghislaine mercier

03.12.2021

Liste musicale SVP.... entêté radio-canada ! c'est nos taxes !
Information about the radio
CBFX-FM is a French-language Canadian radio station located in Montreal, Quebec.

Owned and operated by the public broadcaster the Canadian Broadcasting Corporation (French: Société Radio-Canada), it broadcasts on 100.7 MHz from the Mount Royal candelabra tower with an effective radiated power of 100,000 watts (class C1) using an omnidirectional antenna. Its studios and master control are located at Maison Radio-Canada in Montreal.
Radio contacts
https://www.youtube.com/channel/UCOJslm1dfPFZ09DKRgO9P8g
https://www.instagram.com/icimusique/