Stand with Ukraine. Save peace in the world!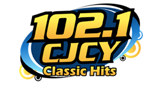 CJCY
Medicine Hat, 102.1 MHz FM
CJCY-FM is a broadcast radio station from Medicine Hat, Alberta, Canada providing Medicine Hat's Classic Hits and Local News on the Hour.
Show more
CJCY reviews
What happened to the classic rock... sure are playing a lot of crappy music lately..

JuelZ Di.Tendaz

29.08.2021

Hello from Montreal, love you guys, CJCY is my favorite radio station ! Viva l'internet ! Wouhou

Brent & Anne Wilkins

15.03.2021

Missing John Tesh and the old content but 5 stars for John and Steve to add a chuckle to your morning

Love this channel its the best one on the radio

Jay Jay Timmons

28.01.2021

Miss the Classic Rock n Roll what happened?

I thought it was supposed to be classic rock?

Great mix!

Awesome old rock I just moved from KTown Aka Kelowna Bc I love the Hat thanks for the great music

I am always excited to listen to cjcy, you guys always play the greatest songs out there.
Information about the radio
CJCY-FM is a Canadian radio station, broadcasting at 102.1 FM in Medicine Hat, Alberta and broadcasts throughout South-eastern Alberta and South-western Saskatchewan. Owned by Clear Sky Radio, the station broadcasts an classic hits format branded as Classic Hits 102.1 CJCY. It has a sister station, CJOC-FM Lethbridge, which carries the same branding.
Radio contacts