Stand with Ukraine. Save peace in the world!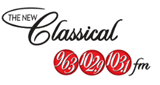 Classical FM
CFMX-FM is a Canadian radio station, which broadcasts classical music at 103.1 FM in Cobourg, Ontario and serving the Peterborough area. The station is branded as Classical 103.1. It is a semi-satellite of Toronto's CFMZ, repeating most of that station's programming as well as airing some local programming.
Show more
TOP songs on Classical FM
Classical FM reviews
Dean in Jukebox has to learn how to pronounce his French. It is unacceptable. Too bad because he is such good host. Maruice Jarre and Angèle Dubois are just two of those that have been butchered.

Andrew Farago Sr.

02.02.2022

The only Classical FM station in the SWO (Sarnia). Internet only! No CBC Music on air, London or Windsor is more than 60 Km away. The CBC transmission limit. SHAME1

helps keep me sane during all of this Cova 19 B.S.
Information about the radio
The New Classical FM, home of Ontario's Classical Favourites, started its life more than a quarter of a century ago as a classical music station in beautiful Cobourg Ontario. It subsequently expanded to Classical 96.3 FM in Toronto and on August 30th, 2014 we expanded our signal across the Georgian Triangle with Classical 102.9 FM.

We are English Canada's only all classical music radio stations. We are Mozart & Movie Music. Bach & Bernstein. Opera & Crossover. We are a new attitude for one of the oldest art forms in Western Civilization. Programmed by John van Driel – popularizes classical music to make it more accessible to the public at large.
Radio contacts
Fax: +1 416-367-1742