Stand with Ukraine. Save peace in the world!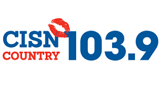 CISN Country
CISN Country - CISN-FM is a broadcast radio station in Edmonton, Alberta, Canada, providing Top 40 and Classic Country music.
Show more
TOP songs on CISN Country
CISN Country reviews
I love this Station, even from Cranbrook BC... Thankyou Internet... And Thankyou Cisn…

Please play "be a cowboy so bad" by Vance Quinn

Love this station. Been listening to it for years. Even won on the bridal revival years ago. ❤️❤️❤️

Robert Wheatley

28.04.2020

Good Music

Great Country!

Love CISN! Great tunes and lots of fun! Listening from Cabo, Mexico!

I've been listening to CISN since I came to Alberta over 20 years ago. I like to mix it up with rock, blues, bluegrass and some pop but when in doubt, it is my default radio station. It drew me to the Big Valley Jamboree, years ago and has become a part of my day. It's button "1" on the presets in my vehicles, and it plays in the background at work. Can't think of anything negative to say about it. My complements to those that make it happen. Thank you.

Always real...keeps the farm animals and peacocks happy on these cold days.
Information about the radio
Today's Country– CISN Country 103.9! Three Time Canadian Country Music Radio Station of the Year Award winner, CISN plays today's biggest country artists like Tim McGraw, Shania Twain & Toby Keith along with hits of yesterday by artists like Garth Brooks, Clint Black and Alabama. CISN FM is proud to present sold out shows in Edmonton like George Strait & Keith Urban, along with promoting high profile events like the Canadian Country Music Awards Show & The Canadian Finals Rodeo each November. Country music continues to grow in popularity with all age groups and helps make CISN Country 103.9 Edmonton's number one country music radio station and the city's longest consistent format.
Radio contacts
Instagram: www.instagram.com/cisncountry/