Stand with Ukraine. Save peace in the world!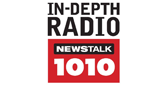 Newstalk 1010
Newstalk 1010 - CFRB is a broadcast radio station in Toronto, Ontario, Canada, providing News and Talk programs.
Show more
Newstalk 1010 reviews
Generally very little objectivity, just the hosts promoting their agendas. Not worth tuning into.

This morning on the way to work, I was stunned how bad the conversation was about residential schools, settlers, etc. Also calling people with VALID questions and concerns "denialists". Extremely irresponsible journalism.

Janusz Sanecki

09.02.2023

🕺e-DJ.#1!💃

lib garbage, such a waste

I really really love hearing the scoop when Jim Richards is on ...the other guys are not very effective 🤔 do IM TRYING TO LISTEN ON MY AW1 SAMSUNG PHONE IT WONT PLAY YOUR RSDIO STATION CFRB THIS REALLY MESSES US UP ...WE NEED THE TIME YOU ANNOUNCE OFYEN AND THE WEATHER ....WHEN WE ARE IN THE SHOWER !!!

Better to stop talking about soccer and the world cup man, you're missing to much information.

Brainwashed has-beens who can't even have an intelligent conversation with anyone other than the extreme left

Diane Bergeron

07.02.2022

recent changes at CFRB , outside of day time regulars, have it morphed from it's previously current and interesting dynamic team of multi faceted broadcasters to be a Commercial- Filled Repeat Broadcast station. Looking elsewhere for my weekend morning and late night. Cheap Cheap Cheap, Bell, to re run and re use broadcasts, instead of showcasing and mentoring the talented journalists here in Toronto.

Stop standing up for Trudeau, he's an incompetent asshole and is dividing the country like never before. TRUDEAU likes to class people as racist when they disagree with him but he's the biggest racist there is.

Reel PHOTO & VIDEO by Captured Memories Productions

05.11.2021

Jim Richards is rather creative. Not sure why they shoved him to the evening. Ryan is paid by the Conservative Gov't...lol...
Information about the radio
CFRB is an AM radio clear-channel station in Toronto, Ontario, Canada, broadcasting a news/talk at 1010 kHz, with a shortwave radio simulcast on CFRX at 6.07 MHz on the 49m band. CFRB's studios are located in the Entertainment District at 250 Richmond Street West, a building which is adjacent to 299 Queen Street West, while its 4-tower transmitter array is located in the Clarkson neighbourhood of Mississauga.
Radio contacts