Stand with Ukraine. Save peace in the world!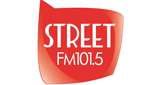 Street FM
El publico sintoniza esta radio porque ofrece noticias, informacion importante para la ciudadania, programas que combinan las notas de actualidad con la música, cultura, entretenimiento y servicios comunitarios, todo, durante las 24 horas del dia.
Street FM reviews
Excelente la programación

Muy buena la radio. excelente el programa. Saludos

Carlos Benitez

17.12.2020

Muy bueno el programa. Gracias a Zaira y a la lista 3 por los saludos del día del Contador. Soy Carlos

Antony Da Rosa

14.10.2020

excelente dia, primera vez que los escucho por la app excelente programa saludos gordo teton

Daniel José Jabovski

02.06.2020

Muy bien los chicos, exelente programa buena onda!

Rodolfo Marcelo Ruggero

18.03.2020

Los diputados se asignaron partidas de $100.000 para repartir subsidios por el coronavirus

Rolando Hammer

31.07.2019

estoy en brasil un saludo a peluca .adriano y Gabriel que estamos escuchando por Internet desde mató grosso nova mutum

muy buena la radio, VAMOS RIVER LPM¡¡ JUGANDO BIEN A LO RIVER

Maria Teresa Murciego

14.02.2018

Feliz Día a quienes tienen el privilegio de amar y ser amados en las mismas coordenadas de espacio y tiempo !! Bien Rosamel por la música "Cuando un hombre ama a una mujer "