Stand with Ukraine. Save peace in the world!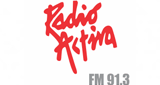 Radio Activa 91.3 FM
Radio que inició su actividad en el día 2 de enero de 1989, transmitiendo desde entonces mucha música de géneros tan variados como pop, rock, alternativo, reggae, heavy metal, rock sinfónico, jazz y electrónica.
Radio Activa 91.3 FM reviews
Excelente!
Radio contacts
SMS: (0381) 154-770639
https://www.instagram.com/activa_tuc/