Stand with Ukraine. Save peace in the world!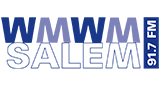 WMWM Salem
WMWM is a non-commercial radio station at 91.7 Megahertz in Salem, Massachusetts, licensed to Salem State University. The station features alternative rock with specialty shows devoted to local artists, blues, doo wop, and electronica.
WMWM Salem reviews
I listen to Joe's show every chance i get. Great music!

Love Elliptic Fate!!! Fw y'all!!

I was in Salem for vacation in early December 2022 and loved your station! I loved on Friday when I heard the saddest songs in the world.

christopher mattera

27.10.2022

Josh...you sound great!

Dam right finally a good station if any chance u have some meliah rage songs

Ava I love you bestie!! -Josh M

Armania's knowledge of music is breathtaking! Enjoy her show!

Carol Thompson

01.03.2022

Love listening to "The Saw Blade of Metal" on Mondays from 6-8pm

I really enjoy Armania's show! Good variety and good songs! She's got potential!

Nice wholesome content. Love it. Are these archived somewhere? I would love to hear Willis again. I hope he calls in on a regular basis. Josh you made me laugh.