Stand with Ukraine. Save peace in the world!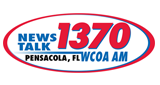 News-Talk 1370 AM
News-Talk 1370, WCOA is Pensacola, Florida's first radio station and is now the city's home of Phil Valentine, Rush Limbaugh, Michael Savage, & Glenn Beck.
Show more
News-Talk 1370 AM reviews
Luciana García

12.06.2021

hi! listen to you from argentina, trying to improve my english!

Love the shows . Cringe at the top of the hour. Just read a decent newsfeed. ABC makes me puke

I've been listening to wcoa for 30 plus years. Best news talk Hometown information station in the state of not the US hands down.

patrick dullea

07.04.2020

Your local news feed overlapped Rush Limbaugh's show this morning...please correct this "operations screw up"..

WCOA is a joke! Oh they have the Best Talk Programming in West Florida but the Signal is so weak That if you leave the City Limits of Pensacola you can't hear them! At night even if you are in the city you still can't hear them!

Karen Brumbaugh

30.09.2019

When I lived in Navarre I could pick this station up great. And I loved it. I had it on in my kitchen everyday. It was the only station to continue to carry Rush Limbaugh when everyone else dropped him because of saying something that was completely true. And I really enjoyed listening to the plant guy & Bobby Lycus. I've gotten tips from both that I still use. But once I bought a place in East Milton that all changed. Now I can only pick up Rush every once in awhile And even then it's not very good. I've tried everything to bring it in better but nothing. I can pick up stations from Panama City clearer than this station.
Information about the radio
On February 3, 1926, excited people began gathering outside city hall for a historic event – the inaugural broadcast of WCOA Radio. Precisely at 8:30pm, WCOA went on the air and except for occasional interruptions from a few hurricanes over the years it has been on the air ever since. Depending on whom you talk to WCOA is the second, third or fourth oldest radio station in the state. Owned by the City of Pensacola for a time, City Clerk John E. Frenkel Sr. was placed in charge. He obtained the proper permits, figured out how to operate the equipment and came up with the call letters of WCOA, which stood for "Wonderful City Of Advantages:

WCOA has always been the station to whom people have turned during times of emergency, especially hurricanes. When Erin and Opal struck Pensacola in 1995, WCOA provided round-the-clock coverage. As the designated Emergency Alert System radio station in this area, WCOA is still ready to respond when necessary.

Many well-known people have been associated with WCOA over the years. Don Priest was news director for 41 years until his retirement in 2001. Hired away from a radio station in Sarasota by owner Mack Miller, Priest worked with WCOA longer than any other employee. Known for his excellent work as a newsman he also was deeply involved in local sports broadcasting high school football games for many years. Other broadcasters who worked with WCOA over the years were Luke McCoy, Don Griffith, Sally Henderson, Gordon Towne, John Teelin, Dave Pavlock, Arlene Sadrow, John Richardson, Marty White, Steve Remel, Don Redfield, Pappy Lynn, John Waite, Dan Lucas, Ellis Davis, Jim Young, Laura Lunsford and Bern Benicks. One of the best known broadcasters was the late Ted Cassidy, who played Lurch on the Adams Family TV show.

The current broadcast team is Jim Sanborn, Don Parker and Bryan Newkirk (Program Director). Davey Willhoit serves as Vice President and Market Manager

News Talk 1370 WCOA is proud to carry syndicated, nationally-known radio personalities Rush Limbaugh, Glenn Beck, Phil Valentine, Michael Savage, and Mark Levin. WCOA also continues to program and produces local shows as well, including Pensacola Speaks, originally hosted by the late Luke McCoy, now with Rick Outzen in the afternoon drive. Start your mornings with Don Parker, Jim Sanborn, Alex Gavin, and Bryan Newkirk on Good Morning Pensacola.

News Talk 1370 WCOA AM continues to do what it has always done best for the past 90 years – provide local and national programming along with news, sports, weather and traffic information to the Pensacola community.
Radio contacts