Stand with Ukraine. Save peace in the world!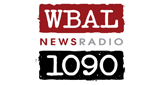 WBAL Radio
WBAL Radio (1090 AM) is Maryland's dominant and most powerful radio station. Since 1925, generations of Marylanders have turned to WBAL Radio for news, weather, thought-provoking discussions and sports.
Show more
WBAL Radio reviews
Travis Gorleski

26.04.2022

A good choice if you want to listen to commentators running the gamut from conservative to libertarian and independent with an intense focus on local topics. The entire lineup from 6:00 - 5:30 weekdays is good with some younger hosts that are coming up nicely in the field of talk radio.

The guy below that mentions WBAL being a Republican mouthpiece is simply wrong. They have many independents or even Libertarians on. Dan Joseph, also mentioned below, is far from a right-winger.

Please let me know when Dan Joseph goes on vacation so I can turn my radio back on.

This is republican propaganda radio and much like their leader donnie dum-dum, they lie, lie, and lie.
Information about the radio
As Maryland's only 50,000-watt AM station, WBAL's signal travels substantially further than any other station in the state and beyond.

The station's news/talk format is both a source of information and entertainment. WBAL Radio also employs the largest news staff of any radio station in the state, providing in-depth reports on local and regional issues. WBAL Radio is also the flagship radio station for Baltimore Ravens football.
Radio contacts
Main Talkshow Call-In: 410-467-WBAL
News Tips: 410-338-6596
https://www.instagram.com/wbalradio/