Stand with Ukraine. Save peace in the world!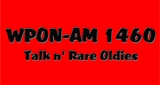 WPON - AM 1460
WPON (1460 AM) is a radio station in the Detroit market, broadcasting from a 6-tower array in Walled Lake, Michigan. WPON is streaming their "Talk and Rare Oldies" format live through their website.
WPON - AM 1460 reviews
Great show!

Outstanding

Sorry, I thought I went to the wrong place. God bless. Love the music!!!

Kevin Warfield

27.02.2023

Okay!! You out here wit the oldies loving it!

I'm loving it. Been here for an hour!!

Excellent show thus far. I'm in Phoenix Arizona and most of us suffer with pollen allergies. Pretty good information madam. Love the music and the show‼️👍🏾👏🏾👏

Renee you are killin it today with this Luther tribute! Keep the hits coming and continue with the other classic hits you play on this station 👍🏾

Rashid Wakefield

27.01.2023

Gotta love Lindsey Renee 🎵

what happened to the real oldies they used to play

AA and Revolving Door Show Thursdays at 4pm to 6 pm is a great show!
Radio contacts
Fax: (248) 557-2950
Studio: (248) 557-1460