Stand with Ukraine. Save peace in the world!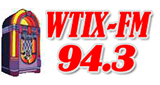 WTIX-FM
94.3 WTIX-FM is a broadcast Radio station from Galliano, Louisiana, United States, providing Oldies, Classics Music, News and Weather programs.
WTIX-FM reviews
Love this station , thank goodness for the online website for perfect reception ! Keep up the good work !!

Love this station just wish their reception here in St Tammany was better!!

Listened to "The Mighty 690" in my youth, living on the Gulf Coast of FL. Now retired and living on the East coast of Fl and once again hearing the TIX Chime and all the rest that comes from listing to WTIX.

Great station then, great station now!

I just moved back and cant believe how great this station has got. You hit the70s and go back to the better old stuff. Nice!

All my old pals! Hi Michael, Hot Rod, Al! FKA Chucker...I'm now

Oldie but goodies

Tix has been a big part in my life. From 690 to 94.3 Not a day goes by that I'm not listening to tix. I have radios in every room in my home. Even outside on the patio, and what's a drive without tix. Love all the music and the DJs. Thank you Michael, Al JD , Hot Rod .Keep it going M & M .

I went to the University of New Orleans for 4 years and fell in love with TIX. I now live in South Florida and have internet radio at home and in the car. TiIX is the only station I listen to. It's funny, when people are with me they always get confused about the time. It may be 1pm here but it is Noon Chime Time on my radio. Keep rocking!

Thanks M & M for keeping real ties to the original top 40 sound of Tiger Radio - The Mighty 6-90! I knew several of the voices on the radio from back then! In the business since I was a kid - Tix was my station of choice when I could receive it over on the coast in Southeast Texas as a preteen!