Stand with Ukraine. Save peace in the world!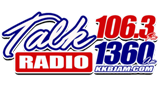 KKBJ Talk Radio 1360 AM
Four years later, radio station KKBJ AM-FM was purchased and all the broadcasting facilities moved into that facility south of town. Currently, R.P. Broadcasting has 20 employees and continues providing entertainment for the Bemidji area.
Show more
KKBJ Talk Radio 1360 AM reviews
Leslie Shofner

02.03.2022

Could get listeners feedback before changing programming

Virginia Berry

14.10.2020

KKBJ AM is the most incompetent bunch of fools I have ever seen. They can not keep up a live stream or keep up with scheduled programming.

Marylou Erickson

12.09.2019

Love talk radio
Information about the radio
RP Broadcasting has been serving the Bemidji area since 1990. Owner Roger Paskvan bought WBJI Radio in 1990, and purchased KKBJ-AM and KKBJ-FM in 1994.
Since high school, Roger enjoyed the field of radio broadcasting. While going to school in Grand Forks he was employed as chief engineer at KNOX radio. After moving to Bemidji, Roger worked as the consultant engineer for KKBJ. He also pursued a dream of obtaining a FCC Fm broadcast station license. This was a new channel that would be brought into Bemidji.
The license was granted in 1990 and the radio station was constructed above the present two-way building. WBJI began broadcasting in Sept. 1991 with an oldies format. The transmitter and antenna found a home on an existing 500 ft tower north of town.
Radio contacts
fax is (218)759-0658