Stand with Ukraine. Save peace in the world!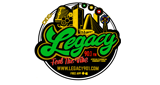 Legacy 90.1 FM
Legacy 90.1 is a broadcast radio station in Manchester, England, United Kingdom, providing Community News, Talk and Caribbean music. Dare to be Different!
Legacy 90.1 FM reviews
Barbara Gardner

02.08.2023

A big shout out to Gordon West playing some lovely lovers rock this evening 👍🏾

May I request a song on your station?

Hi my name is Japh from Slovakia. I would like to request for a song in your radio station.. Your Love by Princess Ella..

I really enjoyed Natural Mystic live interview with the young Birmingham Artist Claire Angel.

My deepest condolences to Natural Mystic and your family may your daddy be now at peace and heavenly in rest. Kingdom Gates is open to receive a saint. From Marcia Minto

Big big tune 💯❤️🔥💨💨💨

Marcia Mccaulsky

04.03.2022

Love it, legacy the best radio station I have listened to in a long wile that's legal for black people. I moved from the south and all my friends and family still lives in the south and it can be lonely but listening to legacy it make it feels a little bit better. Big up to you all. Silent listener

YO YO YO CAL in sale, me locked and feeling the vibe.

Bernadette Mosoph

31.01.2022

Been listening to uninterrupted reggae music….

Hey Big up this afternoon from Brom....Blessed love Chilli!
Radio contacts
Fax: 0161 222 5636