Stand with Ukraine. Save peace in the world!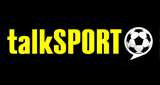 talkSPORT
talkSPORT is the world's biggest sports radio station and has exclusive live coverage of Premier League games, broadcast in the UK and around the world.
Show more
talkSPORT reviews
Das Scot-Davies

14 h past

Enthusiasm makes great radio.....Love this station. Presenters of knowledge and humour, a great combination

fantastic radio

Couldn't stand the station - but now listen every morning on the way into work as Laura Woods and the team are superb. Hawkesbee & Jacobs a good show too - thats about it though as often more than not it resembles 'The Sun on Radio'

Darren Bennett

14.08.2022

Talk Sport has the best presenters and live commentary.

This moronic giggling bufoon 100% mo is given way too much air time o hara needs to share the time more fairly as mo is an idiot..

It makes me laugh these idiots saying thehate a show or a presenter yet continue to liste.I think it speaks volumes about their dull,boring existence.I love the sportsbar but i avoid Darren Lewis he has a political agenda aswell as a huge chip on his shoulder he ruins debates.

Lou Wren's 6th March comments are absolutely bang-on - Jason Cunty & Chris Sutton have two of THE most aggravating voices in Radio history. Yet you employ these footballing rejects, who are CURSED with vocal-chords that sound like a Pit-Bull chewing a Wasp ? Really ? Can you NOT find pundits who have better vocals, vocal-delivery AND some who might not even spout drivel ?

Das Scot-Davies

31.03.2022

Only one good thing about returning from spending the winter in Florida as usual, is to sit back in "rainy" Spain and listen to these two on Talk Sport. Wonderful ..hard but fair and knowledgeable .

I cannot describe how much I hate this station. The commentary is snidey & pompous in metric measurements with self important has beens or never beens. If you like juvenile discussions llisten to o'hara & cunty. I had to give it one star else I could not post.

I absolutely love this radio station. Only one thing is more free live games for us XPads overseas. I from Edinburgh now living in Canada and Man U fan'
Information about the radio
As the only national radio station broadcasting sport 24 hours a day, talkSPORT brings passionate and informed coverage of the most exciting sports events of the year, as well as interviews with the biggest names in the sporting world.
Radio contacts
[email protected]
Reception: 020 7959 7800