Stand with Ukraine. Save peace in the world!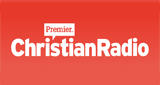 Premier Christian Radio
City of London, 1332 kHz AM
Premier Christian Radio is a British Christian radio station, part of Premier (a Christian communications organisation) which is in turn wholly owned by the charity Premier Christian Media Trust.Premier Christian Radio broadcasts Christian programming including news, debate, teachings and Christian music across the United Kingdom.
Premier Christian Radio reviews
load of eccentric Bible bashers

Jesus saves, So would I bit Boris Johnson doesnt pay enough

Love this radio station. Listening from Portugal.

receiving you loud and clear in NewZealand. God Bless

Clarkewjjp Wendy

03.01.2021

Thank you for coming into my life, before, during and after Covid.

Khristofor Whitestone

03.12.2020

Evil in the Last Days ummmm missing?

glory be to the almighty,needed more and evermore.

Thanks be to God I found Premier Christian Radio 🤍✨🙂