Stand with Ukraine. Save peace in the world!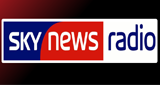 EKR - Sky News Radio
Sky News Radio.A highly dedicated team of radio journalists based at the Sky Centre in London write, report, produce and read the latest breaking news and sport 24-hours a day. The two minute news bulletin is updated every thirty minutes and you can break away from the music and listen to it here at EKR whenever you like!
EKR - Sky News Radio reviews