Stand with Ukraine. Save peace in the world!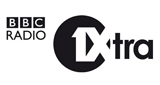 BBC Radio 1Xtra
BBC Radio 1Xtra (also known simply as 1Xtra) is a digital radio station in the United Kingdom from the BBC specializing in urban music.Launched at 6 PM on 16 August 2002, it had been code named Network X during the consultation period and is the sister station to BBC Radio 1.
Show more
Related radio stations
Show more
TOP songs on BBC Radio 1Xtra
BBC Radio 1Xtra reviews
Emanuel Cipriano

22.08.2020

Good

Jones Tarentaal

13.05.2020

I the BBC radio stations just especially for their music!

Blackframe Blackframe

23.11.2019

Moreeee,,, Breakbeat and jungle muZic

Lawanda Grisby

29.10.2019

Listening to you all the way from Houston Texas U.S.A. Love listening to alot of your music. 2:30pm your time is 9:30a.m here, so I tune in after the kids are off to school. #LoveYouGuys. #WishYouWasLive

Bangggggggggers
Information about the radio
Typical music includes largely British, North American, Caribbean and African hip hop, grime, bassline, garage, dubstep, drum and bass, U.K. funky, house, dancehall, soca, reggae, gospel music, bhangra, soul, and R&B. It is available on digital radio (DAB), digital satellite television, digital terrestrial television (Freeview), and the Internet. The first ever track played on 1Xtra was a specially created track produced by DJ Skitz and Rodney P and featuring Beverley Knight and Blak Twang. The show was presented by the Rampage DJ collective and the station's then breakfast show host, Female DJ KC.
Radio contacts
Email: [email protected]