Stand with Ukraine. Save peace in the world!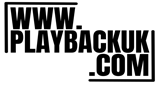 Playback UK
Streaming live around the world 24/7.London's Number one internet radio station, Bringing you the very best in uplifting Funky, Soulful & Electro House music, 4x4, 2Step, Underground and UK Garage, Dubstep, Drum & Bass & Old Skool Club Classics.
Playback UK reviews
Mark menzies? hahaha

Vote that jiggy and conner!! Deadly duo

Gut

Hayley Hopkins

02.11.2019

That you Wayne lol. Tune hayley x

kicks at times from a deported zimbabwean chemical crimes only. Live long and prosper, dont lie and dont steal....... but go go go

Top station hands down

You play a good music, but you talk to much

Luv this ✌

Love this station the most-i just can't understand why the best sets and dj's with mixing skills off the charts are always middle of nights and more than likely during week. Shame that not during day or even drive time hours-& reception in& around London way too patchy but when it's available it's the boom. So good that a fu ck ed reception static included will still be worth listening to.

Love the tunes, the vibe, you smash it every time I listen. So good to hear such banging tunes down here in sleepy Devon.