Stand with Ukraine. Save peace in the world!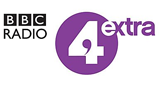 BBC Radio 4 Extra
Radio 4 Extra is BBC Radio's archive entertainment network broadcasting classic comedy, drama and features. Bringing you well loved BBC Radio 4 programmes, and introducing new gems for radio lovers to enjoy.
BBC Radio 4 Extra reviews
Very sorry it wii be only available on line only. My favourite station no longer on DAB sad and very disappointing.

Love this radio as well.

ELMER TOLENTINO

04.06.2021

Hello! everybody. Good day. Your broadcast station deserves a Five Star for its outstanding radio programs. I listen to your talk show and your reporting is excellent. Keep safe and stay well.

excellent

Julius Nhelegani

18.03.2021

This radio reminds me of the 70's when short wave radio was popular - listening from Rodesia (Northern & Southern)

Love this radio to bits.

Love this radio!

A great way to unwind.

Anthonige Sanjeewani

21.12.2019

Lovely

Γεώργιος Ρουβάς

07.01.2019

From Greece Corfu-----> Perfect !!!