Stand with Ukraine. Save peace in the world!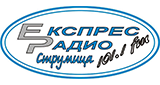 Ekspres Radio
Екипата на Експрес радио е професионална и секогаш водечка цел на вработените во Експрес радио е дека слушателот и деловниот партнер секогаш се во право и секогаш се исполнуваат нивните барања. За музиката што се емитува на нашата програма се внимава таа да биде квалитетна. На Експрес радио се емитуваат хитови од забавна македонска и од екс југословенските простори. Секој работен ден од 07 до 10 часот се емитува утринска програма која претставува еден вид на градски информатор и слушателите се запознаваат со се она што се случувало и ќе се случува во градот.
Show more
Information about the radio
Во периодот од 10 до 15 часот секојдневно од студиото на Експрес радио се реализира отворената програма во која се третираат теми од областа на музиката, спортот, филмот, медицината, занимливости како и голем број на теми од секојдневието на нашите граѓани. Во состав на отворената програма се и Минутите за спорт на радио кој се емитуваат во 11:30. Во нашата програмска шема влегуваат и вестите што се преземаат од Македонското Радио во: 08, 10, 12 и 14 часот.
Radio contacts
Факс: 034/345-134