Stand with Ukraine. Save peace in the world!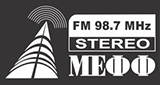 Radio MEFF
Радио Мефф е музичка радиостаница во приватна сопственост, лоцирана во градот под Марковите Кули - Прилеп. Емитуваме програма на фреквенција од 98,7 MHz во стерео техника и напреден Радио Дата Систем. Постоиме и успешно работиме од 1993 година.
Show more
Radio MEFF reviews
Troy Keremelevski

20.09.2023

listening from Australia

Jovano Jovanke - Love Without Frontiers (Dac i Aleksandar) ---- радост за душата

George Talevski

18.12.2020

Odlicna programa zadovolstvo e da se slu'a

Rade Ilijovski

30.08.2020

најдоброто радио во македонија

This reminds me of all the beautiful time I spent in Porodin, Bitola and all over MACEDONIA a beautiful Country.

Excelente melodía..me gusta mucho.felicitaciones

Okay

Hallo jasum Reinhold Hlasny Germanis i Macedonis od Germania vo Wilhelmshaven i ima doma vo Krivogastani vo Macedonia..Macedonsko stara Musika od RADIO MEFF mnogo mnogo dobro POZTRAV NA ZITE MACEDONSKO LUJE REINHOLD HLASNY

Andrej Hristijan Bilbiloski

02.09.2019

Bravo bravo pozdrav do ekipata na Radio Meff

Andrej Hristijan Bilbiloski

04.08.2019

BRAVO SEKOJA CES
Information about the radio
Радио Мефф е посебно интересна радиостаница од причини што емитува исклучиво македонска музика од сите жанрови, но со најсилен акцент на народната музика. Во однос на покриеност со сигнал, совршено ги покриваме териториите на Прилеп, Битола, Крушево, Демир Хисар, Македонски Брод, но нашите радио бранови одлично ја покриваат и територијата на Лерин и околните Лерински села! Но тоа не е границата на Радио Мефф, бидејќи паралелно стримуваме преку неколку различни сервиси на Интернет, со што нашата програма е лесно достапна буквално низ целиот Свет.
Откако постоиме бројот на слушатели е во постојан пораст. Благодарение на "интернет радиото" посебно интересни сме за слушателите од Канада, Австралија, Америка како и сите европски земји во кои има доста иселеници од Македонија, а кои посебно ги почитуваме.
Radio contacts