Stand with Ukraine. Save peace in the world!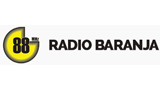 Radio Baranja
Beli Manastir, 88.0 MHz FM
Portal lokalnih vijesti Radio Baranje, Internet Radio.
Show more
TOP songs on Radio Baranja
Information about the radio
16. veljače 1992. u 16 sati u jeku granatiranja Osijeka, iz podrumskih prostora osječkog Donjega grada, s minimumom neophodne opreme, započeo s emitiranjem, tada prognanički Hrvatski radio Baranja.

Danas 21 godinu poslije, Radio Baranju su održali na životu direktorica Zlata Maršić, Zdenko Lozančić, Siniša Frank, Saša Alilović, Robert Repić, Mirela Jurković, Vlado Omazić i Jelena Blašković.

Iza prve poruke u eteru Hrvatskog radija - studio Baranja bio je cijeli tim prognanih Baranjaca, a glasom je bio Dario Jagarinac. Osim njega tadašnju ekipu su činili pokojni Ivan Maršić, Mario Fuis, Siniša Marinković te Zdenko Lozančić koji su radili do progonstva u Belom Manastiru. Prvi direktor Radio Baranje je Branko Jalšovec, njegov brat pokojni Milenko Jalšovec vodio je marketing, a zamjenik direktora bio je Ivan Maršić. Nakon pokretanja programa, koji je bio namijenjen informiranju prognanih Baranjaca smještenih u Osijeku i okolici, počelo je ekipiranje opremom i kadrovima. Radu su se priključili i kolege sa zagrebačkog radija 101, a za glavnog urednika ubrzo dolazi Anto Bandov te niz novinara, tehničara i voditelja.

Od 1992. godine Radio Baranja postaje glavna medijska uzdanica 20-ak tisuća prognanih Baranjaca, a posebno vojnika 135. baranjske brigade i baranjske policije koji su držali sjevernu crtu obrane grada Osijeka. U razdoblju od 1992. do 1998. godine kroz program Radio Baranje prošle su sve značajnije osobe političkog, vojnog i civilnog života Osijeka i Baranje. Kroz Radio Baranju tijekom 20 godina prošlo je oko 50-ak ljudi.

Nakon završetka procesa mirne reintegracije, postaja se 30.svibnja 1998. godine vraća u Beli Manastir.
Radio contacts