Stand with Ukraine. Save peace in the world!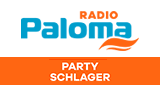 Radio Paloma - Partyschlager
PALOMA - PAradies! LOcker! MAcht! Tag für Tag - Stunde um Stunde - nur 100% deutscher Schlager.
Show more
TOP songs on Radio Paloma - Partyschlager
Radio Paloma - Partyschlager reviews
Super die Musik auf Partyschlager ist Spitzenmässig,weiter so.

Beste Schlagersender, läuft den ganzen Tag. Schön, dass es Euch gibt! ✌️🤗

Patrick91 Barth

22.12.2019

super web radio,nummer eins sendern einer von vielen

rein van vliet

16.09.2019

Het is goed de beluister. Rien van vliet
Information about the radio
Radio Paloma ist ein privater Hörfunksender, der seit dem 1. September 2008 24 Stunden täglich ausschließlich deutsche Schlager und volkstümliche Musik sendet.

Im gesamten Bundesgebiet empfangen Sie Radio Paloma digital über Kabel, Satellit, Internet oder in Berlin über DAB+.

Starten Sie gut gelaunt in den neuen Tag mit Nora Oschatz und Stefan Loll im Programm "Die Radio Paloma Muntermacher".

Der Arbeitstag vergeht schneller mit den besten Schlagern und 100% Wissen zum Weitersagen mit Harald Selke.

Ach Aktuelle Themen, Informationen und Geschichten, über die Deutschland spricht Sylke Gandzior.

Und immer genießen Sie das Wochenende mit 100% deutschem Schlager mit Peter Christ.

Gewinnspiele, Verlosungen, Veranstaltungen und sonstige Höreraktionen, mit denen wir Sie glücklich machen, finden Sie bei Radio Paloma!
Radio contacts
https://www.instagram.com/radiopaloma/
https://www.youtube.com/user/RadioPalomaDE
Telefax 030 8800102-19