Stand with Ukraine. Save peace in the world!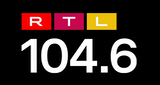 104.6 RTL Berlin Livestream
104.6 RTL Berlins Hit-Radio. Die besten neuen Hits und die RTL-Greatest Hits. Steh auf mit Arno & der Morgencrew – Berlins lustigster Morgensendung!
Show more
Related radio stations
Show more
104.6 RTL Berlin Livestream reviews
Sven Von Knoblauch

25.01.2023

Immer die gleiche Musik der Sender war mal besser

Sergey Spiridonov

06.03.2022

1

Immer die selben Songs. The Weeknd, P!nk, Wellerman, Zoe Wees, etc. hoch und runter, kann sowieso keiner mehr hören. Playlist und Liedtexte kennt man fast auswendig. Kaum Abwechslung, ich merke keinen Unterschied.

Yeah! Dynamite ♡

top
Information about the radio
Die bekannteste und älteste Sendung von 104.6 RTL ist die Morningshow "Arno und die Morgencrew". Die Sendung hat im Gegensatz zum restlichen Programm einen vergleichsweise hohen Wortanteil, der überwiegend aus Comedy-Inhalten besteht. Außerdem kommen Nachrichten dazu, die anders als tagsüber halbstündig gesendet werden. Verkehrsreport und Wetterbericht werden morgens alle 10 Minuten neu ausgestrahlt. Die Frühsendung wird seit dem Sendestart moderiert von Arno Müller, der gleichzeitig auch Programmdirektor des Senders ist. 2014 und 2016 wurde "Arno und die Morgencrew" mit dem Deutschen Radiopreis als beste Morgensendung Deutschlands ausgezeichnet.

Der Rest des Tagesprogrammes wird mit einem stark musiklastigen Programm bestritten, unterbrochen von kurzen Moderationen, stündlichen Nachrichten (die stets um 10 Minuten vor der vollen Stunde ausgestrahlt werden), einem Verkehrsreport und Wetterbericht sowie Werbung.
Radio contacts
[email protected]
Fax: 030 - 884 84 121