Stand with Ukraine. Save peace in the world!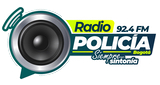 Radio Policia Bogotá
Somos la Radio Policía Nacional de Bogotá - 92.4 FM. Una radio familiar, divertida, con la mejor salsa y los éxitos del momento, con noticias cada hora, y la información de la movilidad en tiempo real. Radio Policía. Música, noticias, movilidad en una sola radio.
Radio Policia Bogotá reviews
Excelente musica, buen merengue y buenos clasicos .

Radio Policía Nacional

17.06.2023

Saludos al taller de doña Clara

Cordial saludos desde Carora del taller de doña cleria

Cordial saludo,

Ricardo Valencia Guerrero

30.05.2023

buen tema en la radio, pero eso no se cumple a mi me da miedo que me pare un policía, son agresivos, atacan por todo y estando mi vehículo en regla, mas capacitación o revisión al ingreso de los aspirantes de policía

Muy buena música 😍, mi emisora favorita

hola en la mañana anunciaron una rodada en bicicleta al cerro de guadalupe nocturno podrian confirmar la informacion gracias

glosa "Analista de glosas" hscaqueza

13.04.2023

buena emisora, buena musica pero por favor dejar de poner esa cancion de farina de cumpleaños es horrible.

mayra carolina duque angel

16.03.2023

Hola radio policía Nacional, que buena emisora la única falla es la canción de farina de cumpleaños que fea canción, de resto muy buena...

Juan Pablo Malagon Martinez

21.01.2023

Hola radio Policía Nacional 92.4, soy Juan Pablo Malagón Martínez un saludo muy especial para mi mamá Greli Milena Martínez y a mi Papá Ricardo Malagón en la localidad Ciudad Bolívar barrio Ismael Perdomo