Stand with Ukraine. Save peace in the world!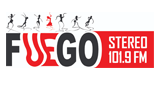 FUEGO STEREO
Santa Marta, 101.9 MHz FM
FUEGO STEREO 101.9 is a broadcast radio station from Cienaga, Magdalena, Colombia, providing News, Information and Spanish and Variety music.
FUEGO STEREO reviews
Cesar Hernandez

01.01.2023

Un saludo para mi padre que está de cumpleaños herder Hernández y su hijo cesar Elias

Brayan Hernández

28.12.2022

Bendiciones desde Francia BRAYAN Hernandez

SALUDOS DE PARTE DE LUIS ANAYA Y FAMILIA Y UNA FELIZ NAVIDAD A TODO EL GRUPO DE FUEGO DEPORTES Y LA BASTA AUDIENCIA,

Sicer Casy Gold

01.09.2022

excelente emisora, me mantiene informado del acontecer de mi tierra salitrosa,,,Muchos saludos a mi tierra ciénaga....Barrio San Rafael Kra 13 con Calle5

Sopla ciclon vamos con toda saludos desde boyaca 💙♥️

Excelente emisora pero le falta profundidad en algunos temas tratados de santa marta

Prospero Ribon

16.02.2022

Amigo periodista favor investigar más sobre estas sustancias génicas llamadas vacunas para que pueda opinar sobre el tapabocas lo dice el inventor del ARNm doctor Malone

Hector Visbal Saballet

24.08.2021

Excelente tratamiento de la noticia, con la verdad y sin apasionamiento. Con mucho FUEGO DE AMOR para la COMUNIDAD.... GAIRA DISTRITO..

Es una grán emisora, me encanta las canciones al medio día de relax... La verdad soy muy romántica!!! 😍👌 besooss muaak 💋 y abrasooo!!! 😘 Dios los bendiga. 🙏

Luiizz De Oz Martinezz

23.01.2021

¿Cómo se llama la canción brasilera que esta dentro de las mejores de la semana?