Stand with Ukraine. Save peace in the world!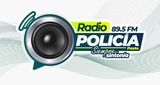 Radio Policía Pasto 89.5 FM
Emisora 89.5 FM, Pasto, emisora de la Policía Nacional creada como medio informativo, que contribuye al fortalecimiento de la cultura colombiana.
Radio Policía Pasto 89.5 FM reviews
JAVIER DARIO RIVAS MENESES

03.09.2023

Solicito informacion para la reincoorporacion a patrulleros retirados, cuanto tiempo es el rentrenamiento?toca volver hacer todos los examenes con el mismo valor de la primera vez?

Gracias por el espacio y la Invitación especial a NUESTRA PRIMERA FERIA DE ARTISTAS MUJERES DEL SUR TRES LUNAS ,marzo 31 y Abril 1 en la casa de la Cultura. Tendremos un desfile artístico y repetiremos la obra musical, dancistica y teatral Memorias de mujeres pastusas en los años 30 los esperamos

Julian Ferney Gomez Rivera

20.10.2022

Excelente

Reinaldo Argenis Guerrero Gomez

12.07.2022

en la unica emisora donde me suenan Todas las canciones de Luis Fernando Guerrero , Muchachita, y volveré, Rescate Mejor dicho todas, Gracias por complacernos, En nuestra familia Escuchamos radio policía todo el día

Creyente del Mensaje de la Hora Wilian Brahanam

22.02.2022

Gracias por su comprencion

es la única emisora que no funciona.sin señal

Gloria Maria Chaves Guerrero

30.07.2021

Buena programacion

No funciona

Carlos Bastidas Muñoz

18.03.2021

No funciona

Figo Campestre

13.02.2021

quiten esa mier....... de que toca registrarse para poder escuchar via online, solo quiero escuchar música, no socializar con ustedes, manada de petardos.