Stand with Ukraine. Save peace in the world!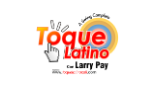 Toque Latino
Toque Latino A Swing Completo is an Internet Radio station broadcasting from Cali, Colombia, playing Salsa and Latin music. sabrosura de la Pura Dirige y programa Dj Larry Pay
Show more
TOP songs on Toque Latino
Toque Latino reviews
Andres Caicedo

18.10.2023

La mejor emisora a otro nivel🔥🔥🔥

Sensato Sensato

21.02.2022

Lo mejor ti Que latino

Anderson Bustos

30.01.2022

Lo máximo toque latino,a swin completo,clik latino,salsa aló loco,larrypay"1A"...

Yhon Emerson Balanta Martinez

01.01.2022

Saludos desde suarez Cauca felicitar a Berllinyy escudero en sus cumpleaños gracias

alexis bermudez

13.10.2021

La mejor emisora escuchada a nivel mundial y el mejor dj de salsa comercial y no comercial reportando sintonia desde la coruña, España saludos

la emisora que cali siendo la capital de la salsa se merece tanta musica que las otras emisoras no pueden colocar por su formato comercial aqui escuchamos musica que era exclusiva de unos pocos reconocimiento a alberto valencia por toda una vida difundiendo la verdadera salsa

Jose Alvarez Mosquera

23.12.2020

HOLA SOY DEIVI. REPORTANDO SINTONIA DESDE MILAN ITALIA APURO SUIN MADA SALUDITOS ATODOS LOS LATINOS QUENOS ENCONTRAMOS POR ESTAS TIERRAS

Ofelia Bustos Valencia

20.12.2020

👍👍Lo mejor" larrypai y toque latino"👍forever.....Anderbu..

Michel Cardozo

02.09.2020

larry pay y su toque latino siempre con la mejor timba .. saludos ...

saludos
Information about the radio
Toque Latino, emisora de radio virtual, que en su nueva etapa entrega a sus oyentes una variedad musical atractiva para aquellos amantes de la salsa, complementado con la timba cubana y el guaguanco. para nosotros es gratificante el saber que cada día hay mas personas alrededor del mundo que se unen a la sintonia; 24 horas ininterrumpidas los 7 días de la semana.
Toque latino se transmite desde la ciudad de Cali CO, desde sus orígenes en el año 2012, por este espacio virtual han desfilado artistas , Dj's y Animadores reconocidos; hoy en día podemos decir que habido gran influencia de nuestros colabores a los que estimamos siempre.
Es también el agradecimiento a nuestros oyentes que no se despegan de nuestra señal en vivo, a los que tratamos de complacer siempre, ese apoyo contante de ustedes es lo que nos permiten posicionarnos en la web con buena melodía.
Misión:
Seguir transmitiendo sin interrupciones; ser el espacio musical favorito, llegar a mas oyentes cada día, ser también el espacio social para la comunidad.
Vision:
Llegar a ser lideres entre las emisoras virtuales salsera, aparte poder darnos a conocer en la frecuencia modulada.
Radio contacts
Time in Cali: ,