Stand with Ukraine. Save peace in the world!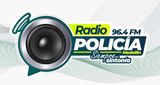 Radio Policia Medellín
Radio Policía Medellín 96.4 FM. Radio institucional de interés publico, con programas enfocados en la prevención, para una mejor convivencia y seguridad, acompañados de variedad musical, dirigido a todo publico. ¡Usted, es bienvenido y es nuestra razón de ser!
Radio Policia Medellín reviews
Info Savia Servicios

14.08.2023

¡Queremos que seas parte de Seres del Agua! 💧🍃

Corbolivar Corbolivar

06.05.2023

Excelente sintonía, es una emisora que ayuda animar los ambientes laborales , actividades cotidianas y las recomendaciones de seguridad ciudadana.

ÉDGAR YOVANI PIZA ECHEVERRI

28.04.2023

Felicitaciones por el programa. Siempre en sintonía. Un saludo a nuestro comandante, mi general Rojas y a mi coronel Guerrero. Dios y patria.

Hola mi nombre es Eddy Ramirez soy de Ecuador y te estoy escuchando desde Esmeraldas - Ecuador 🇪🇨. Un saludo y fuerte abrazo para que comiences con mucha energía este 2023. 😘🌹

Astrid Carolina Vargas Díaz

15.11.2022

Mi voto es para la Yeison Jiménez con tu amante. Son la mejor emisora policía nacional me da lo que quiero. Desde el barrio granizal

luis miguel gil

22.10.2022

buenas tardes amigos de Radio Policia Medellin para que x favor me coloquen un tema del cacique "la reina"

Johana Toro salgado

07.09.2022

Cual es el numero para comunicarme?

Estudio Juridico Collantes Castillo

23.08.2022

Desde que conocimos Medellín quedamos enamorados de esta hermosa ciudad y de toda su gente, ahora felices de escuchar a diario una radio que nos transporta desde Lima Perú hacia Medallo y nos hace sentir todas sus maravillas. Felicidades y muchos éxitos, abrazos desde Lima.

Me encanta exelente emisora Dios los bendiga 😘🙏

Un saludo a Laura de las Casas en Chamán