Stand with Ukraine. Save peace in the world!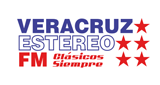 Veracruz Estereo Clasicos Siempre
Veracruz estereo icono de la radio en el mundo, ahora juntos lograremos ser la emisora más escuchada en digital, encuéntranos cómo Veracruz estereo digital en todas nuestras plataformas digitales, escúchanos también en www.veracruzestereo.com, síguenos en nuestra redes sociales como @veracruzestereoclasicos.
Veracruz Estereo Clasicos Siempre reviews
Juan Carlos Cuaran Diaz

24.08.2023

felicitaciones se les quiere un monton desde popayan cauca

Juan Guillermo Gallego

09.08.2023

Mucha retórica y muy poca musica, en serio......

alejandro idarraga castaño

14.07.2023

una canción de Durán duran. Gracias.

Víctor Hugo Restrepo

05.07.2023

excelente programación podrian tocar send me an angel

marcela "marcela gutierrez" gutierrez

04.07.2023

Por qué está fallando tanto la emisora? totalmente bloqueda

John Javer Ospina Castrillon

12.06.2023

La emisora que emite vida. Bendiciones

luis fernando campuzano lopez

09.06.2023

UNA COPIA DE LA EMISORA ORIGINAL DE MANIZALES, COLOCABAN MEJOR MUSICA EN LA OTRA..

la mejor de lo mejor excelente programacion

Andres felipe Garcia

22.05.2023

Mera vieja guardia mijo crecí con 98 . 9 la che pa dony Carlos Alberto rrios. Y el resto del parche. Dios los bendiga faltó el negro caro

Música muy buena