Stand with Ukraine. Save peace in the world!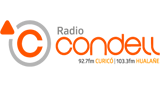 Radio Condell
Una emisora que se identifica con la familia, su programación es dinámica, entretenida e informativa.
Radio Condell reviews
Antonio Miguel Bustos Fuenzalida

13.07.2023

Saludos para ustedes desde Copiapo Soy Antonio saludos a mis Papas Que están en Curicó Familia Bustos Fuenzalida gracias

Guillermo Christian Reyes Reyes

27.11.2019

Que pasa cuando el padre quiere ver o quiso ver a sus hijos cuando eran menores y la madre no lo permitía? Siempre amé a mis hijos. El Juzgado decía ir con carabineros a buscar a los hijos, yo no haría pasar por eso a los míos. Lamentablemente hoy en día mis hijos no se han portado bien, incluso tengo nietos y los amo mucho y hoy hacen daño a través de ellos.

Matteo San Toro

21.10.2019

Vamos chile con fuerza y que lo vamos a superar y que saldra todo bien desde mi trabajo escribo y escucho mucho su emision y es muy buena.

Desde San Fernando, la unica manera de escuchar el partido, a la antigua...mujy buena

Carlos Hernandez

16.02.2019

La emosion de escuchar al curi desde rengo

Fabian Espinoza Reyes

08.10.2017

Vamos curico desde peñaflor fuerza Curico unido.......