Stand with Ukraine. Save peace in the world!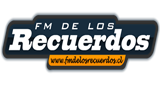 FM de los Recuerdos
Esta emisora transmite en FM y online, siendo favorita entre el público de mediana edad tanto en Chile como en otros lugares. Nos trae una oferta variada con noticias, espacios culturales y temas musicales clásicos que nos llegarán cada día al corazón.
FM de los Recuerdos reviews
Encontre en esta emisora la musica de mis recuerdos,la escucho online desde Chicago, USA. Felicitaciones a FM de los Recuerdos.

Porfirio Hurtado

27.06.2023

Hola me encanta su programación de música tan hermosa de mis recuerdos. Yo los escucho desde Chihuahua capital del estado más grande de mi hermoso MÉXICO.

Jessica R. Candia Jünümann

15.04.2023

Desde la octava region excelente musica.

hola muy buena su musica mis felicitaciones ,un saludo desde puerto natales

Excelente radioemisora, buena programación de temas del recuerdo... Felicitaciones desde ANCUD. 😃 *** 21 Mayo 2022.

Se están sacando los zapatos hoy, ahora Jethro Tull con Elegy.

Alejandro Sabando

26.11.2021

Su radio ha sido mi diaria compañia desde que la encontre hace un año aprox. trabajo con personas de la tercera edad y les encanta oir esta programacion. FELICITACIONES desde Coquimbo Chile

Hector H. Cartulin

10.10.2021

Gracias por regalarnos la música de bellas épocas vividas, mis saludos de Lima, Perú.

Gloria Angela Montenegro Aguilera

03.09.2021

muy buena radio me encanta los recuerdos mas maravillosos no saben lo feliz que me siento con cada recuerdo gracias

Hace poco que la ubique en internet, mis felicitaciones por tener un espacio con años que son recuerdos de nuestras vidas juveniles y adultas. Un gran saludo para todos sus integrantes desde Batuco provincia de Chacabuco.