Stand with Ukraine. Save peace in the world!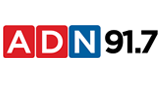 ADN Radio
ADN Radio - Estación de Santiago de Chile que difunde durante las 24 horas, noticias al día, con información relevante, segmentos y eventos deportivos nacionales, shows en vivo, los sucesos internacionales y servicios.
Show more
ADN Radio reviews
Excelente...don Mauricio Hofmann un caballero de la noticia

Inaceptable la actitud del tenista Djokovic en Australia. Será el mejor en la cancha de tenis hoy. Sin embargo, como otros tenistas malcriados, no tiene ninguna responsabilidad social.

Roque Parraguez

21.07.2021

A Toñito se le nota su amor por los come guaguas...a "ssshorrar" a la FIFA!

Escutei desde de Brasil.

Cristianraul Pachecotorres

21.02.2021

ADULTO MAYOR FALLECE EN CHILLAN BAJO LA CUSTODIA DE UN HOGAR DE ANCIANO EN CHILLAN

´Buenos días queridos amigos de ADN. Soy una mujer de la 3ra. edad y quiero dar a conocer algunas situaciones que vive nuestro grupo etario.

Roberto Torres

21.06.2020

Cómo se les ocurre entrevistar a ese fulano tan grosero Para hablar. Diez Palabras y cuatro groserías. Cambiaré de emisora. Muy buena su radio, pero muy mal en escoger a ese fulano de tan mal hablar.12.40 hrs.

César Méndez Tapia

07.05.2020

La mejor radio informativa de Chile.

Rody Quinteros Pinto

27.03.2020

Los escucho desde el 27 F, para mi por lejos son los mejores comunicadores

Franco Brunetti

26.03.2020

Es una muy buena radio en materia de noticias y deportes, pero tiene un evidente y muy desagradable sesgo político de izquierda, que impide que sea totalmente buena.
Information about the radio
Nuestros programas

ADN Hoy am: 06:00 a 07:00 con Leonardo Honores y Francisco Sougarret.

ADN Hoy titular: 07:00 a 09:00 con Mirna Schindler y Mauricio Hofmann.

Hablemos el lunes: 08:00 a 09:00 con Mirna Schindler y Mauricio Hofmann.

Pauta B: 09:00 a 10:00 con Mirna Schindler, Gerson Del Río y Mauricio

Hofmann. Ciudadano ADN: 10:00 a 12:00 con Andrea Hoffman y Eduardo Fuentes.

Mediodía en ADN: 12:00 a 14:00 con Iván Núñez.

Los Tenores: 14:00 a 16:00 con Carlos Costas, Francisco Mouat, Juan Cristóbal Guarello y Luka Tudor.

Ciudadano ADN: 16:00 a 18:00 con Sandra Zeballos.

La Prueba de ADN: 18:00 a 20:00 con Andrea Arístegui y Antonio Quinteros.

Los Tenores: 20:00 a 21:00 con Víctor Cruces, Rodrigo Hernández, Danilo Díaz y Cristian Arcos.

Entrelíneas: lunes 22:00 con Francisco Mouat.

Déjame Pensarlo: martes 22:00 con Eduardo Fuentes.

Agenda de Género: sábado 11:00 con Lucía López.

Carlo Cocina: sábado 12:00 con Carlos von Muhlenbrock
Radio contacts
https://www.instagram.com/adnchile/
https://www.youtube.com/user/ADNRadioChile