Stand with Ukraine. Save peace in the world!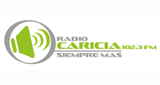 Caricia FM
RADIOPRENSA.cl, RADIO FM CARICIA 102.3 y RADIO AM IGNACIO SERRANO CB 54, son emisoras pertenecientes al conglomerado PALACE LTDA. de Melipilla.
Show more
Caricia FM reviews
Feliz aniversario

Jaime Rafael Banda

20.07.2022

Todos los días en sección noticias, aparece el diputado Coloma,programas musicales o misceláneos impecable,noticas pésimo y sesgado

Adolfo Figueroa

03.05.2022

Para las autoridades de melipilla y todas las personas animalistas, debiera ser una prioridad cerciorararse y tener toda la preocupación de saber como están las mascotas en los refugios que para ellos se han creado.

Claudio Alfredo Silva Ugarte

22.10.2021

Hola buenos días podrían repetir el trabajo jo que acaban de dar solo alcance escuchar que nesecita eléctrico 🙏🙏🙏🙏

Sofia Eskalante

28.06.2021

Es mi radio favorita

Patricio Mundoautoadhesivo

11.08.2020

me parece el colmo que tengan la señal online en mal funcionamiento hace mas de 7 días

que la responsable del accidente se haga responsable...queremos #justiciapararuben y sus pasajeros....que el dolor de las familias se pague con carcel que esa mujer asuma su error y jamas vuelva a tomar un volante...es un peligro para la sociedad .... dejo a los heridos de gravedad y se va en helicoptero a una clinica sin tener daños o lesiones que lo requieran....queremos que asuma por aquellos que aun luchan por su vida por ese padre de familia, por esas hermanas y ese padre que esperan su hija y nieto vivan....que pague la responsable

daniel villarroel

20.02.2020

hola buen dia quisiera saludar a dante villarroel el negrito de melipilla que maneja el movil 13 de parte de su hermano Daniel que vive en tunuyan mendoza dedicarle un tema relacionado con los hermanos puede ser hermanos de m.a. solis un gran abrazo

Hola amigos my dreams... Una de mis canciones favoritas grande verus
Information about the radio
Emisoras de 1.000 watts de potencia efectiva cada una y una trayectoria de 37 y 55 años respectivamente, son virtudes que las hacen pertenecer al círculo de las estaciones d radio más importantes de nuestra zona y alrededores (V, VI y RM).

Nuestros estudios se encuentran en una zona que presenta un crecimiento constante y que también se perfila como una potencia en lo que es nuestra zona rural costa.
Radio contacts