Stand with Ukraine. Save peace in the world!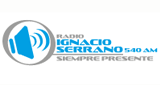 Radio Ignacio Serrano
Con una programación entretenida, informativa y variada, esta radio transmite para su público tanto en su dial de amplitud modulada como en internet, a fin de ofrecer toda la información actual y avances en eventos deportivos.
Show more
Radio Ignacio Serrano reviews
Muy buen invitado Ramón Madrid uno de los más importantes personajes dentro de la cultura musical Chilena

Felicidades por el invitado,Don Ramón Madrid,un hijo ilustre de Melipilla!!un pionero en llevar nuestra música a grandes esferas.🏆👏👏👏👏🇨

Mónica Rodriguez

03.03.2023

Don Andres, muchas gracias por su apoyo soy la mama de Antonella Ortiz, la niña que tiene leucemia y Elviara hablo con Ud., por una rifa a beneficio a todos los gastos que significa esta enfermedad, y trasladarnos continuamente a Santiago, y llevamos 7 meses ya en qumioterapia

Joel MOYA MORALES

13.07.2022

saludos desde atacama, de un melipillano de nacimiento, saludos a la recordad radio Am Ignacio Serrano, como no olvidar "la Marcha del deporte" con elm inolvidable Sergio Medina Conejeros o bien "Archivo de tangos" saludos

Bkn

Muy buena la radio me hace compañía y a la vez me hace recordar a mi padre un fiel auditor de esta emisora

Hola por favor informo que en la calle massoud sarquis esta un olor a caca insoportable y los vecinos no quieren hacer caso de limpiar

Es muy buena la radio la mejor de la tarde

Benjamin Orellana

18.11.2021

saludos profe Ramon

Hola desde pta arenas un gusto escucharlos
Information about the radio
Emisoras de 1.000 watts de potencia efectiva cada una y una trayectoria de 37 y 55 años respectivamente, son virtudes que las hacen pertenecer al círculo de las estaciones d radio más importantes de nuestra zona y alrededores (V, VI y RM).

Nuestros estudios se encuentran en una zona que presenta un crecimiento constante y que también se perfila como una potencia en lo que es nuestra zona rural costa.
Debemos señalar que complementamos nuestra línea informativa con distintos programas misceláneos, dedicados exclusivamente a entregar contingencia local, nacional e internacional. Imprimiendo un sello social de ayuda a la comunidad y que ha otorgado un primer lugar en audiencia indiscutido durante toda nuestra existencia.
Radio contacts