Stand with Ukraine. Save peace in the world!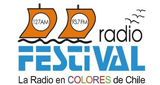 Radio Festival
Viña del Mar, 93.7 MHz FM
Debe decir: Radio Festival. Emisora que transmite en CB-127 y 93.7 FM desde la Ciudad de Viña del Mar, Región de Valparaíso, Chile. Dentro de sus horas de programación, encontramos diversos contenidos, como servicios a la comunidad, música y Noticias de nuestra locales, nacionales e internacionales. Festival, La Radio En Colores de Chile.
Radio Festival reviews
Francisco Jofre

02.02.2023

LOS ESCUCHO CON CIERTO DESFACE POR INTERNET, YA QUE EL SECTOR DE POLANCO, VALPARAÌSO ES MUY MALO. EN TODO CASO, NO ME PIERDO EL FESTIVALAZO, INCLUSO ESPORÀDICAMETE AL ARBITRO SAQUERO , MACHETERO Y OSCURO "QUE TE DIJE". SALUDOS A TODOS.

Lo único malo es la tal Marcela que llama a diario a todos los programas impostando la voz, tratando de pasar por cuica. Pedante la señora. El resto muy bien especialmente J.A. Sepulveda .. muy talentoso. Saludos y que continúen los éxitos.

saludos desde liverpool .... se extraña al tano caprile ... grande

Carlos Miranda

14.12.2021

callampa , se cae a cada rato

Juan Carlos Peña Ramirez

21.09.2021

Los escucho desde Buenos Aires on líne como. Siempre muy entretenidos y saludos a la Sra Rosana chiesa gracias por mantenerme al tanto de lo que sucede en la quinta región 👍👍👍

Manuel González

16.08.2021

Hola manuel de valpo... si alguien encontró documentos a ala altura pedro montt con Rodríguez a nombre de Manuel González porfa avíseme por este medio ..gracias

Jorge Antonio Cerpa Aquea

01.08.2021

DESDE ANTOFAGASTA ESCUCHO RADIO FESTIVAL.

Nilta Carvajal

26.04.2021

Hola, los escucho siempre, podrian nombrar a mi hija Carolina Soto , ella es discapacitada y se pone muy feliz cuando nombran a Carolina .....oyentes de uds, Gracias por su atencion

Mauricio Asencio

26.04.2021

Hola familia radio festival .... soy los mejores .. the best ... desde España 🇪🇸..un seguidor de la gran sintonía!!! ( Radio Festival ) .... un fuerte abrazo para toda la familia ....desde la costa brava l 'Estartit - Gerona ... España 🇪🇸.. !! 👍

Jossett Cassidy

22.04.2021

Me encanta esta radio es una radio que regala alegría a todos y también acompaña.gracias por ser como son. Siempre arriba radio festival.