Stand with Ukraine. Save peace in the world!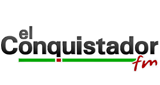 El Conquistador
El Conquistador ofrece magia, encanto, personalidad y un estilo absolutamente diferente a todo lo que encontrará en el dial, porque es inteligente, entretenida, cultural, informativa, las 24 horas del día.
El Conquistador reviews
Jaime Lanzarini

08.04.2023

Buenas hay una periodista creo que es bárbara trabaja con Larraín y vial que se mandó una de esas con llanto y todo . Dijo el presidente boric se arrodilla y se abrazan con la mamá de carabinero palma . Por favor mentira cómo se le dicen a los que mienten . El único que abrazo fue boric la mamá jamás lo abrazo . Solo dijo me lo mataron informe bien usted no es dueña de una verdad

Veronica Saleh

31.03.2023

Lo mejor

Gloria Gallardo Olavarria

22.02.2023

Que manera de enlodar gratuitamente a nuestro Presidente.

Me gusta mucho El Conquistador 91.3 ….

Loreta Garrido

10.06.2022

Muy buena conversacion la de hoy, moda sustentable. 👍 Un tema importantisimo pq Chile es zona de sacrificio textil.

Nuevamente señal caida, en estos momentos llevo mas de 15 minutos y está pegada la señal en un comentario de la Sra. María Luisa Cordero.

La señal por internet sigue caida, sin audio.

Manfred Hochberger

16.02.2022

Hace muchos años escucho esa radio en mi computador, pero siempre cuesta conectarse, incluso por la página web....señor Molfino a ponerse las pilas para que la señal de internet sea estable y segura...

Enrique Escobar

16.02.2022

Señores les aviso que la señal por internet está caída.Varios días que no conecta

ricardo stuart

15.02.2022

Hacen dos días que la señal no llega. No se puede escuchar.