Stand with Ukraine. Save peace in the world!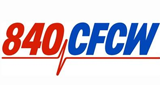 CFCW 840
CFCW 840 is a broadcast Radio station from Camrose, Alberta, Canada. 1954 CND's 1st country station is born. It becomes the powerhouse known today as 840 CFCW, Alberta's Country Legend. They Play The new, The known & The legends.
Show more
CFCW 840 reviews
Love Country... and love listening to your station...

Boom Boom SHAZOOM

31.08.2020

The worst thing to happen to radio since that time they aired War of the Worlds in the 1950s in the UK and caused mass panic. Perpetual country music is a worse form of torture than using a cheese grater to wipe your own ass. Play some actual music than the same white-trash 10 songs about some depressed, cowboy, douchebag getting drunk and abusing women, and feels sad about it and then sleeps with his tractor. This radio station is literally the reason Camrose is a depressing pile of shit.

Awesome

i love it
Information about the radio
CFCW is a Canadian radio station in Camrose, Alberta broadcasting at 840 AM. The station is owned and operated by Newcap Radio. CFCW also has studios in the NewCap Broadcast Centre in West Edmonton Mall. CFCW airs a "traditional country music" format with a mix of classic and current country hits.

CFCW is currently ranked #6 and the 3rd most listened-to AM station in the market according to the Fall 2014 Numeris data report. Most of the stations listeners live in rural areas outside Edmonton.
Radio contacts