Stand with Ukraine. Save peace in the world!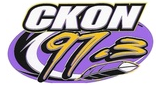 CKON
CKON's mandate is to communicate with the people of Akwesasne through preservation and promotion of the Mohawk culture, and to broadcast information, entertainment, and music in a way very unique to the community where it began.
Show more
CKON reviews
Hi. The music is perfect. Today, even more if there is such a thing!

Hi I;m from Casselman Ontario CKON that my weekend radio live internet keep up the good work thanks

Love the old country music, and even that DJ that say's "Of course" all the time :)

Camping in Rhode Island and staying in touch with what's happening at home, good morning Akwesasronon

I live in Victoria BC,I used to live in Valleyfield, every saterday I get up early to listen to the old country music that's my kind of music,

Patrick McMahon

28.02.2022

Listening the Shamrock Hockey at work in St. Louis. LET'S GO GREEN!

Love your music today but especially old country music

Melody Davidson

19.12.2021

hi i live in cornwall and this is the radio station i listen too. love the music stories and staff i was just wondering where is misty in the morning miss hearing stories of her adventures and family thanks melody davidson cornwall ontario

I would like a song by Hank Thompson " Who Left The Door To Heaven Open for our 56 year Anniversary thanks jack and Linda Warner from Ingleside Ontario

Darrell Tucker

01.01.2021

It's Community! It's Family!
Information about the radio
CKON-FM is a private radio station located in Akwesasne, a Mohawk nation territory that straddles the Canada–United States border (and also, on the Canadian side, the interprovincial border between Quebec and Ontario). Its licence was issued by the Mohawk Nation Council of Chiefs and Clanmothers. The station broadcasts on 97.3 MHz and is owned and operated by the Akwesasne Communication Society, a community-based non-profit group. It has a country music format, but also has adult contemporary music during evenings and oldies on Sundays. CKON-FM also strives to play local and nationwide Native artists. CKON-FM broadcasts in English and Kanien'keha, the language of the Mohawks.
Radio contacts