Stand with Ukraine. Save peace in the world!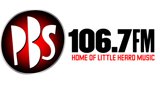 PBS
Collingwood, 106.7 MHz FM
Melbourne's progressive community radio station. On the radio at 106.7FM. We create real radio and promote progressive and under-represented music.
Show more
PBS reviews
Hidey Ho, Pete "Mr Doo Wop"

Thanks Greg. Your passion and knowledge of jazz comes through the radio. Hope to hear you again on PBS

Kelvin Speldewinde

31.08.2020

Hi Jeff, thanks for supporting OZ music and playing Pressure Drop's single from way back in the late 70's. Not sure about it being cheesy, but check their site out for some hard hitting Aussie urban reggae. Happy to send you some tracks.

Ariane Armstrong

18.07.2020

Living in Gippsland I miss Melbourne radio PBS, thankfully I can tune in online.

Michele Pearse

07.01.2020

Love the show Jeff. Bringing back wonderful memories!!!

Living in Rockhampton, listening to PBS, wishing I was in Melbourne, so cool in the winter heat! Thank you PBS! luv ya work!
Information about the radio
PBS is a specialist contemporary music radio station hosting approximately 79 programmes per week. The key to its musical diversity is that, as volunteers, PBS announcers independently choose their own content according to genre or theme. Volunteer efforts are both behind the scenes and on air.

The PBS vision is to nurture, inspire and champion Melbourne's diverse music community.

The station dropped the "3" from its callsign before the turn of the century, preferring in the age of internet streaming and digital radio to be known as just PBS, PBS-FM, or PBS 106.7FM.

Programming is determined by a committee chaired by a Board member who oversees the process. The committee includes the Station Manager, Program Manager and seven co-ordinators who are specialists in their respective genres. They are tasked with ensuring that the best announcers and programs are chosen to serve an active music community, complementing what mainstream radio offers.
Radio contacts
Fax (+61 3) 8415 1831
Studio SMS +61 400 03 1067