Stand with Ukraine. Save peace in the world!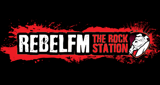 Rebel 99.4 FM
Rebel FM is a broadcast Radio station from Gold Coast, Queensland, Australia, providing Rock and Metal Music.
Show more
TOP songs on Rebel 99.4 FM
Rebel 99.4 FM reviews
I live in Hemingway sc and I love this station

Damien Randall

16.07.2022

love the music Selection but would love to hear more of The Warning especially from their new album Error these ladies are the future of rock!!!

Night music is always better. Hear it in the mornings and through the day online here in Florida. Alice at nights, Hard Rock nights, DJ's with an ear for rock, and some Australian spirit....Turning music into wine! Love it! Need it! Rock it!

RGR productions R G Roden

20.03.2022

I occasionally hear some old Uriah Heep tracks. Great memories, but how about some of thier new stuff. "Bad Bad Man" or "Universal Wheels"....

Flicking through stations a few weeks ago after hearing the same 50 songs on another station...mmm I can't think of it's name..... and stumbled on 'Say Hello to Heaven' by Temple Of The Dog and I instantly felt at home - no one else plays that on the radio!!

Come on rebel your the best station with rock n roll Brian bashers great alice Cooper s great sometimes you stray from rock sat 8 20 this dg after brian basher not so cool played seether then played cars paul newman then all i wanna do is dance should be rockn roll plenty of other stations to listen 2 that play that stuff

Yea man.

👍🎸👍🎸

found you guys before, that old pc died. went looking for new free stations on the net, found you again just now... well worth the time hunting!! got it saved and will be writing it down too!

David Strommer

22.11.2020

Been planning to move up here for a couple of years to the goldie Gold Coast from CoVictoria in February just in time to escape this nasty pandemic and was sick of hearing boring ego morning shows then at work my workmates had Rebel blasting away amd it blew me away with the choice of rock songs rhat i hadn't heard in literally decades and i wouldn't tune-out from Rebel heaps and heaps of classics also the down to earth morning show to Davo driving home and night nights with rock 🎸 LEGEND Alice Cooper!
Information about the radio
Rebel FM (callsign: 4RBL) is an Active rock-formatted radio station, based in the Gold Coast suburb of Helensvale, Queensland, and broadcasting across regional and rural areas of Queensland and New South Wales. First broadcast as SUN FM in 1996, it is owned and operated by Rebel Media.
Radio contacts
Fax The Rebel: 07 5626 0699
Competition Line: 1300 33 REBEL (1300 33 73 23)
https://www.instagram.com/rebelfmtherockstation/
https://www.youtube.com/channel/UCRKjE4quQWOGY7rDVMGNwLA